This song is one of the rare occasions that you get to hear a song that was solely intended to be composed without vocals, and I have always felt that the melodies in this song really shined instrumentally! I remember I was back home in Devon, England. I was taking a bus from the village of Totnes to the city of Plymouth in the westcountry. The bus journey usually takes just a little shorter than an hour, but the bus winds through all the beautiful countryside. The forests, the meadows, the rivers, the outskirts of the moors... until eventually, the bus reaches the oceanside where Plymouth is situatated. Although it always took a little longer than taking the train, I always opted to take the bus if I wasn't in a particular hurry. The day itself was a particularly bright spring day, and the sky was a luscious blue. I had sent Merry a few videos and photos from the bus journey and that is when she was inspired to compose Blue Sky, which really captured the feelings of that day. Although that time was very difficult for me, I could feel genuine happiness from this song. We usually tend to write very intense melodies, often in the minor key, so this was a nice departure! I will leave you with a photograph I took during that journey!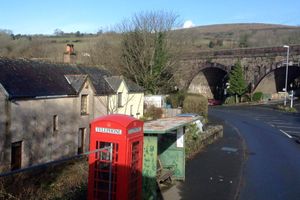 -Jordi
* 
Blue sky! I have so many fond memories of this song! It's actually one of the few songs only one of us worked on.
It all started on a beautiful spring day. I was at home and the weather was just incredible! Sunshine, clear sky as far as the eye can see.... I was chatting that day, with Jordi, he was on the bus and he sent me pictures and videos from his travels and one particular video stood out to me because it was the beautiful deep blue sky and I immediately got inspired. This melody just sprang onto me, dug its claws right into me and woudn't let me go until I've put it down in FL studio, which I did, as quickly as possible.
I then finished it up quickly in August, making a little video - after trying to make something more elaborate and failing spectacularily. That's just how it is. At least if you're self thaught and stubborn like I am... But I quite enjoy the process. Coming up with something elaborate and complicated way out of my skillset to challenge myself and then slowly realising I can't do it is a humbling experience and honestly: I don't mind failure. I learn from it and don't fear it anymore. Oftentimes trying alone is already part of the fun for me and I usually learn something new that's useful in another project later down the road.
The old video of Blue Sky
 
For Roots we barely touched it. We actually had planned to include new vocals and I even recorded some, but honestly? It just distracted from the simple melody and the sheer joy of this song, so I went and added some drums to the album version to make the last part really shine. The recorder you hear is played by me as well. It's quite rare that we use real instruments for our work aside from percussion (mostly the logistics of recording them are too much of a hassle to really bother with it) but we're both trying to include more real instruments in the future :D
This time I tried to include lots of flowers and skies in the video because this is what makes me really happy, which is everything this song stands for.
I hope you enjoyed this remastered version of Blue Sky! Thanks for reading <3
-Merry