Tree of Life, oh I remember this song was a stressful experience. Jordi uploaded the first version for the NGADM (Newgrounds Audio Deathmatch) way back in 2014 and we were so proud of our work together. The demo of the song itself was quite old. Jordi sent it to me to work on it because I showed interest and I wanted to work on an instrumental together with him (something we rarely do) but just a few days later and we had both forgotten about it, so it just sat there in my files, waiting for its moment to shine. A funny thing: The demo sounded nothing like the finished song either... I think only the harp part somewhat existed and I would probably have gone a very different way than Jordi. It's been a while and my memory is hazy these days, haha.
Come the NGADM and Jordi still had to compose something for his entry. The deadline was only a few days away. I remembered the demo he sent over and showed it to him again and he fell in love with it once more.
He finished the song in ONE DAY, doing everything by himself, and we had another day for recording, if I remember correctly...
I only contributed vocals and we had to be quite fast, the deadline was literally on the same day and fast recording/singing definitely isn't my strong suit. Although it doesn't sound like it, I'm usually very, very picky about my vocals. My voice is rather weird to work with and sometimes it just flat out refuses to work. A shame because I have quite the range and variety when it cooperates. I delivered though and the result was, in our ears (and it seems in the ears of the NGADM judges) quite pleasant since it brought Jordi right into the next round!
Success! :D
We then worked on a charming little video. I drew the artwork and I'm honestly still quite fond of it, although I'd definitely approach it differently this time. At this time Forest Elves didn't really have its own visual style just yet. We slowly grew into it over time as my own art changed quite a bit and I gained experience over the past few years. I still don't have a consistent style, but I see it as an advantage. It means I'm flexible :)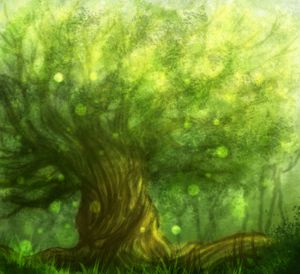 Tree of Life - Artwork by Merry
I remember it didn't take too long to draw this picture. A few hours perhaps. All done with a tablet in Paint Tool Sai.
By the way, the tree you can see on the artwork for our Roots album is another version of the Tree of Life! I wanted to use this specific artwork for a video, back when we decided to include "Tree of Life" in Roots, but in the end it became part of our album cover and I'm pleased with that.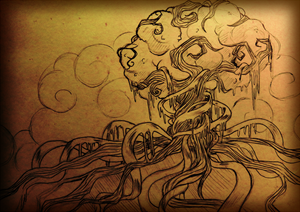 Tree of Life reimagined - Artwork by Merry
This one was actually done traditionally with paper from my sketchbook and a cheap ball pen. I barely drew a sketch and just started working on the details at once. I wanted it to look old and mysterious, a tree that doesn't really exist in reality that way with lots of visible roots and tendrils. I think if you'd put a human next to this tree you could barely see them since this tree is so massive.
A few years down the road we listened to Tree of Life again with the intention to include it in Roots, now with way more experience under our belts... We were absolutely APPALLED at the muddiness of the mix... We didn't remember it to be this bad actually, haha. It simply shocked us.
The old version of Tree of Life in all it's glorious muddiness
So we sat down, we realised the instrumental itself still held up to our standards and Jordi also had the WAV, so we could master it for release. It's still one of my favourites he has done so far. But yeah, the vocals... They were so weak and we knew we could do it much better. So we started recording the current version you can now hear on our album.
I had lots of fun recording this time and frankly more time, which definitely helped me to get as many harmonies and extras done as I could. We changed up the middle part from the original quite a bit. I didn't include my higher range here and let Jordi have the spot because he created a lovely texture and I thought it would sound good to let it shine, but I recorded a ton of stuff for the climax part to make it stand out even more and I think we definitely delivered here... the original just kinda drags along and tapers out at some point, lol. Seriously, compare them, the difference is astounding!
I hope you enjoyed our remake! :D
-Merry
*
Ah, Tree of Life! Now I have fond memories of this song, but the process of writing it as Merry mentioned, now that I come to think of it, was indeed quite a stressful time! I had worked on the instrumental and gotten that to a place where I was happy with it, but the deadline of the round of the NGADM competition was literally a few hours away. My vision of having this song as Forest Elves song in that moment was really strong, and Merry was so patient and kind (a superstar to be honest) to have jumped in so late in the evening to help me with all these vocals under the time constraints! When we released this, I was so proud of it, and it got me through to the next round.
Many people were introduced to our music from our old version of this song too, when Nixxiom used it in his World of Warcraft machinima "The Druid: Tree of Life"
"The Druid: Tree of Life" by Nixxiom


It was seriously a beautifully made video and the storyline was very emotional! He had also used some of our other music in his first machinima "The Druid" (which you can find here). We were really grateful to have more people find our other music too from this and were excited to welcome everyone to our little world! 
Anyway, as Merry mentioned, when coming to Roots preparations and with our growth (which has been expansive) since the original version was created, everything just sounded really muddy. I was able to salvage the original instrumental, but we decided to re-record all the vocals! Now that we weren't under any time constraint, I feel that this really elevated the song to where we always wanted it to be.

When I was working on the video for this new version, I felt really inspired particularly by the vocals in our new arrangement. In a way, in my mind, our voices connected directly to the tree of life. At first the harmonies we're singing sound quite suppressed and are just simple 'ahh's', and with the visuals, all the nature during these parts is in a sort of watercolour style that I wanted to use to represent a lack of life and freedom. But as the music goes on, especially during the middle section, the tone of the music changes and the vocals start to come to life more! In the visuals, it is still in watercolour style but you can see more movement. Almost as if the tree of life is starting to work its magic, while the voices dance like a spell being cast. The bridge comes in and the tree of life is in full force, the voices growing and everything eventually coming to life and being set free, also reflected in the visuals as the watercolour style disperses to reveal the nature in its authentic form! The outro slows down and lyrics are sung - everything is alive.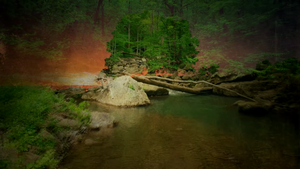 "Everything is alive"
Just thought I'd jot down my thoughts for those that might be interested - the scattered thinkings of a creator. I hope you guys enjoy this remake!
-Jordi